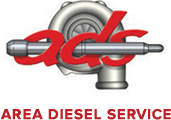 For 2017, Area Diesel Service, Inc. is proud to announce that we have opened a new branch in Indianapolis, Indiana!
5732 W 71ST ST. INDIANAPOLIS, IN 46278 - Call Dave or Steffan at 317.203.3331
Since 1973, Area Diesel Service, Inc. has been working on diesel engines and fuel systems for all things diesel.
We have the Midwest's largest new and re-manufactured turbocharger inventory, and are authorized for warranty repair work on most of the major fuel system OEM's. We also carry a lot of specialized parts for performance.  
We are a BorgWarner Franchise Distributor and carry a catalog full of custom machined products for turbocharger applications with Axis Turbocharger Accessories (ATA).
Area Diesel Service offers the Magnum Quality Replacement Parts, a growing product line for diesel truck applications.  The Magnum line includes Turbochargers, Injection Pumps, High-Pressure Oil Pumps, Injectors, EGR Coolers, Electronic Components, Tools, and many other associated parts and accessories.
We love promoting our Agricultural Diesel Solutions product line and have modules that will provide more horsepower and fuel economy for your agricultural equipment, heavy-duty, medium-duty, and light-duty diesel trucks and automotive applications.  See us at the show for more information about our agricultural modules, as well as our Truck Edition modules.
Let us become your diesel experts!
Visit us in Carlinville, Illinois; Pleasant Hill, Iowa; or our online.